Welcome to Independent Home Products, LLC
Walk in Bathtubs of New York

Since 2007, Independent Home Products, LLC has served Long Island City, NY for walk in tub pricing and quality that can't be matched. Keep yourself or your loved one as independent at home as possible for as long as possible. Our New York walk in bathtubs and walk in showers have become the industry standard for beauty and ease of use. Whether you are in need of a hydrotherapy tub in Queens County or elsewhere in New York for pain management or require a walk in shower or bathtub due to difficulty with mobility, Independent Home Products, LLC is NY's choice in providing walk in showers and tubs that are built to last. We've helped to improve the quality of thousands of lives; we'd love to help you too.
---
Call for a FREE Quote
---
Why Choose Us to Install Your Walk In Tub in NY?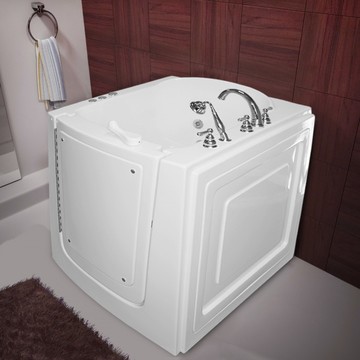 It's the People Behind the Product. All of the staff at Independent Home Products, LLC are caring bathroom safety experts in New York. We understand that the decision to purchase a walk in tub is a big one. They are an investment in your health and in your quality of life. We'll help you every step of the way; from selecting a walk in bathtub that best suits your needs to installing the walk in tub in your New York home.
Made in the USA! All of the walk in tubs installed in New York are manufactured at our factory in Long Island New York. Our walk in tubs are designed and molded using the best technology available today and then shipped to your local New York walk in tub contractor.
Quick and Efficient. Because our tubs are designed and manufactured right here in the USA, our lead time is quick. We can complete the entire process of measuring your space, helping you select the best walk-in tub for your needs, order the tub, have it manufactured, shipped and installed within 10 to 14 days! Our system is streamlined to fulfill orders quickly and efficiently, saving you time and money. We'll turn your bathroom safety hazard into a luxurious spa by pulling out that old tub and installing a walk in bathtub in your New York home.
---
Call for a FREE Quote
---
Call any time to discuss your Long Island City Walk in Bathtub needs.
For more information, visit our Walk in Bathtubs FAQ.